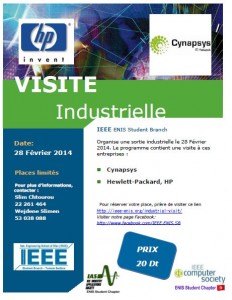 It is a great pleasure to invite you to participate to the Industrial Visit organized by the IEEE ENIS SB.
Date: 28 February 2014
Departure Time: 06:30AM
Departure Place: ENIS
Participation fees: 20DT
The program includes visits to:
- Cynapsys <
link
>
- HP Tunisia <link>.
Please contact:
 - Wijdene Slimen: 53 038 088
-  Slim Chtourou: 22 261 464
Registration is  REQUIRED
due to the limited number of participants:
Registration is now closed!