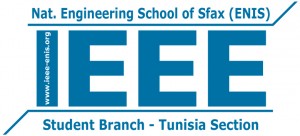 At the National Engineering School of Sfax (ENIS) in Tunisia, the IEEE student branch provides many services which you will find beneficial such as workshops, technical presentations, career networking events and more.
Through events such as speakers, industry tours and technical courses, IEEE ENIS SB focuses on extending the educational and technical experience of students in computer science engineering and electrical engineering.
The IEEE ENIS SB was established on April 1st, 2009. The following table presents the membership development in the group.
| | | | | | |
| --- | --- | --- | --- | --- | --- |
| | December 2009 | December 2010 | December 2011 | December 2012 | December 2013 |
| Students | 36 | 32 | 12 | 53 | 78 |
| Graduate Students | 92 | 110 |  106 |  128 | 160 |
| Total | 128 | 142  | 118  | 181  | 238 |
| Tunisia Section | 400 | 406 | 437 | 876 | - |
About our Student Branch
Our video on green technology